Now that you've worked hard to make a recording, you need to edit it to make it stand out.
Musical Horizon® engineers offer custom audio editing for your audition, recital, concert recording, or your commercial album. We remove extraneous noises, raise or lower volume, make splices, and more as needed. Our dedicated engineers understand that, as a classical musician, you want the purest sound possible. We minimize the amount of special effects or reverb to create a crisp, clean recording that sounds like the listener is hearing you perform live.
Musical Horizon®editing services are custom because each client wants and needs something different. Some musicians prefer to keep noises like floor creaks and page turns in — others want those removed. Sometimes with audition recordings [1], perfection isn't what you want. Top schools want your raw, pure sound. We'll make recommendations as necessary.
Musical Horizon, LLC is a premier NJ recording studio, offering a full range of services to clients in New Jersey, New York, and Pennsylvania.

Musical Horizon® Editing Services
:: Normalization
Adjusts amplitudes to provide the optimum listening experience. Otherwise, the listener may have to raise the volume up quite a bit.

Recording at loud levels can cause distortion on accented notes, or loud passages. It is much more preferred to raise the amplitudes at a later time, as distortion can not be fixed or undone.
Screenshot showing 4 audio tracks (names blacked out on request):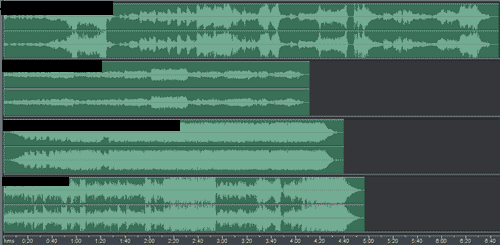 First sample. This is an example of how audio should look. It has a great amount of change in amplitude (mainly volume) within the file. It is occasionally truly silent and occasionally at its peak.
Second sample. This is an unedited example from a live performance. While peak is not reached at any point, there is a good amount of variation in the volume. However, this will most likely sound very soft to the listener, unless they raise the volume on their stereo quite high. Most performances look like this before normalization.
Third sample. This example suffers from severe compression and normalization. Most consumer-grade recording technology records this way. It has no diversity – it is all monotone. Amazingly most CDs sold today are balanced this way. No wonder live performances always sound much better.
Fourth sample. This example is very close to perfect. There is a reasonable variation in volume; however, its amplitudes are a bit beyond peak. Recording/editing at a very high level can cause unfixable distortion.
:: Removal
Applause




Keep, but only at the beginning and end of the CD.

Keep every time they clap.

Take it all out!

Custom

Tuning

Speeches

Silence




Silence removal is often misunderstood by performers. Since Musical Horizon® engineers only press record when you walk onto the stage, or after the audio engineer gives you the ready cue, there is some silence between that time and when you start to play. For audition recordings, silence removal is ALWAYS a good idea. A jury will not be pleased waiting 10-60 seconds (or longer) into the track to listen to your performance. Musical Horizon® engineers will automatically remove this silence on all audition recordings.
:: CD Mastering
This is the preparation of your edited audio files for placement on a CD.

Our equipment records at better-than-CD quality. In order to make CDs it is required to downsample your finished product to CD-quality in order for the CD to be created.
:: Tracking
By movement.

By song.

By piece.

By song cycle.
During the recording process, we make new tracks when you exit the stage, at the intermission, or before giving ready cues.
:: Background Noise Reduction
Using sophisticated techniques we can attempt to reduce background noise. It is impossible to remove it completely, as doing so would also remove the music on top.
:: Advanced
Please discuss your needs with us, so that we can best accommodate you! All of our audio engineers are able to read a score and are classically trained musicians. We are happy to schedule an appointment [2] to have you with us while we edit your project.
Set up a free initial consultation with a Musical Horizon® engineer today
Musical Horizon, LLC offers no-cost, no-obligation consultations with musicians, teachers, parents, and anyone associated with your project. Please call today at 973-287-4029 or email us at recording@musicalhorizon.com [3]. We offer affordable and flexible rates.